Danang: City Demographics:
Region: Central Vietnam

Population: approximately 1 million

Area: 1,285 km

2

Gross City Production: $3,5 billion (2016)

Tourism revenue: $711 million (2016)

City's export turnover: $1.3 billion (2016)

Latest Unemployment Rate: 3.8% (2016)

Per Capita Personal Income: $3,059 (2016)

Administrative units: 8 districts (rural, suburban and urban)

No. of expats: more than 5,000

An International Geographical Exciting Destination

After reviewing a number of articles, we have collected information from updated resources on why companies nationwide and globally should choose Danang, Vietnam to be their next destination. Below are some of the reasons why investing in Danang is an ideal move for investors to gain access to Vietnam's market.
1.A strategic economic center of Vietnam's central region:

On August 13, 2004, the Prime Minister decided to establish Da Nang as the Central Key Economic Zone, comprising of five provinces and cities: Thua Thien – Hue, Da Nang as the center, Quang Nam, Quang Ngai and Binh Dinh..
In recent years, the Government has been focusing its resources on investing in the Central Key Economic Region. Many large infrastructure projects have been implemented.
Da Nang is known as the East Gate of the East-West Economic Corridor (EWEC) and the entrance of World Cultural and Natural Heritage. Therefore, it has receiveda lot of support from the Vietnamese government.
About EWEC, it is one of five economic corridors developed by the initiative of the Asia development bank in the greater Mekong sub – region.
Currently, the road system in Laos, Thailand and the road line from Da Nang to Savannakhet are completed. The second international bridge spanning the Mekong river was completed in the end of  2006 to facilitate the circulation of goods and passengers by road line from Da Nang to the northeastern provinces of Thailand and vice versa.
Thus, this corridor not only provides an opportunity for the country on the path of promoting regional cooperation and improves living standards for the people but also enables businesses to have better access to the raw materials for their operational activities such as: capital, labor and technology. It was created with the purpose of creating favorable conditions for investment and trade across the border and diversifying economic activity and exports, as well as promoting tourism development.


2. Have a pool of trained and abundant human resources

Da Nang has abundant human resources (over 50% of the population of the city), most of which are young labor. The number of employees with technical expertise accounts for nearly one quarter of the labor force. Labor costs in Da Nang are lower than some other cities in the country namely Ho Chi Minh city and Ha Noi.
Da Nang is also one of the provinces in the country with a high educational development index which creates a favorable platform for the city labor force to reach the goal of improving their quality of life. The city has about 14 universities, 15 colleges and professional schools with nearly 140,000 students. It has training courses in areas of science, engineering, information technology, economics, business administration, language and pedagogy… Universities in Danang also cooperates with other foreign universities in France, US, Japan, Australia, Canada, New Zealand, etc.
The software technology center in Da Nang is one of the leading software hubs in Vietnam and also the leading training center of the Vietnam central region. Over the years, the software technology center  has cooperated closely with companies in India (aptech) and Japan (aots) to train programmers, technicians and engineers to reach the global standard. Many IT companies has chosen Da Nang to set up their branches to hold their talents for international projects.
In addition, the city also has about 55 vocational training centers which often provide short-term training courses in computer science, sewing, mechanics, electricity – electronics, construction techniques, etc.


3. Favorable quality of life
Along with the progress of urbanization, the boosting economic growth in recent years has improved the quality of the residents' life.
Unlike other big cities in Vietnam, besides the busy life from the urban development, living in Da Nang also gives you a sense of peace, comfort, especially the closeness to nature. This is due to the fact that Da Nang is one of the very few cities in Vietnam having a harmonious combination between high mountains, deep forests, long beaches and magnificent rivers. Therefore, you can easily find space to relax near the big rivers and lakes or on beautiful beaches.
Da Nang at the moment is a city having a rich culture, urban-like lifestyle, an elevated literacy level and beautiful natural wonders. Besides, it has many world cultural heritage sites , some of which are: Hue Citadel, Hoi An Ancient Town and My Son Sanctuary. It can be said that Da Nang is the most exciting place to live, work, travel and invest in Vietnam.
The famous tourist magazine Live and Invest Overseas (LIO) recently has announced a list of 10 overseas destinations worth living abroad in 2018. Da Nang is the only destination in Vietnam to proudly be in this list.
Accordingly, the author of the 10 foreign-living articles published in the LIO used to describe Danang as one of the most popular destinations on the Vietnam tourist map, which has welcomed more than 10 million foreign visitors in the year 2016 alone. She was impressed by how well Da Nang is managed: "It's organized, well planned with a strategic view. I recently saw a plan entitled "Da Nang Master Planning Vision—2030 to 2050." The rating is based on the economy status, prices, safety, infrastructure, cultural resources and environment.
No wonder why Danang falls into this list as it is also famous for investors as well as tourists to be even more affordable than other urban cities in a reasonable-price country, Vietnam. A place worth living in with only a moderate budget definitely helps Danang quickly transfer itself to be the next center of the whole Southeast-Asian region.

4.Economic growth is on the rise, great potentials for development.
In the period 2012-2017, the growth of GRDP's total products is always at 8-9%, higher than the national average. In 2017, GRDP of Danang reached 58,546 billion, increased 9% more than 2016.
Main contribution to the high and stable growth of Da Nang's economy is mainly from the service and construction sector. Along with the high and stable economic growth, the city residents' living standard has been improved.
The successes in economic development mentioned above are thanks to the long-term strategic policies of Da Nang city, such as focusing on infrastructure improvement, administrative reform towards light Supporting businesses, investment incentives in key areas.
Therefore, Da Nang has 7 times ranked first in PCI rankings in PCI rankings in 10 times (2007-2016) and is considered the most worth-living city of Vietnam. With good investment policy and environment, Da Nang has been quite successful in attracting domestic and foreign investment capital.
As a matter of fact, the total investment in Da Nang city has continuously increased. In 2017, the total investment capital for development is estimated at VND37,450 billion, up 6.1% against 2016.
Another special advantage of Da Nang compared to other destinations in the country such as Nha Trang, Phan Thiet, Phu Quoc is that it has its International Airport which is capable of welcoming a number of international flights from Bangkok, Singapore, Korea, China as well as hundreds of domestic flights every week. Thus, the city becomes more attractive for both native as well as foreign investors.
GDP growth in Da Nang at the beginning of the year 2018 was quite good, at 7.1%, higher than the national average of 5.5%. Infrastructure in Da Nang is also among the best in the country's sea-tourism cities.
5. Business-friendly environment

To provide better services for citizens and create a favorable investment and business environment, Danang has adopted the "one-stop shop" model for administrative procedures at all levels. The administrative procedures are publicized with simplified and transparent procedures. The procedures to grant business registration certificates and investment certificates are completed using this model to help businesses save time and money.
Since 2008, Danang has been repeatedly selected by Vietnamese business community as one of the cities with the best investment environment. The city ranked first in the Public Administration ReformIndex (PAR Index) in 2012-2015, ranked second in the Vietnam Provincial Governance and Public Administration Performance Index in 2012 and 2013. The city ranked number one in the Provincial Competitiveness Index in Vietnam (PCI) from 2008 to 2010 and 2013 – 2016.
Some of the key points:
Free and easy access to information on legal regulations and planning

Competitive land rental/prices

Dialogues between local leaders and businesses

Technical utilities provided to project sites

.
6.Other reasons:
-Advanced ICT and telecommunications infrastructure
In terms of ICT infrastructure, Danang is an important telecommunication hub of the country and in the world. It is also one of the three most important endpoints of the national trunk network and the international direct connecting point. The world standard IT and Communication Infrastructure System in use comprises a Metropolitan Area Network (MAN), a Data Center, and an IT R & D and Training Center, and a public wireless connection system in the whole city. In 08 years (2009-2016), Danang ranked number one in the availability for ICT application (Vietnam ICT Index). Danang plans to become an, "E-government", "E-city" by 2020.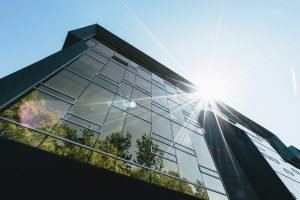 -Focus on green and hi-tech investment projects
In recent years, the city's investment attraction policy has shifted towards favoring projects using advanced and green technologies. There are 06 industrial zones which have been in operation with complete and comprehensive infrastructure, meeting businesses' production demand. With that aim, Danang Hi-tech Park (1,129.76ha) and Danang IT Park (341ha) have been established as a place to incubate and nurture new technologies and innovative start-ups companies. In order to encourage more green and hi-tech companies to invest in the city, the government give many incentives for investors if they choose to invest in the Hi-tech Park such as low corporate income tax, land rental reduction and other free supporting services. In addition, there are 380 companies operating in IZs including 294 domestic companies and 86 FDI companies.

[DanangGov,Antlawyers and Cafef.vn]

To access a pool of talented developers and co-sharing office in DaNang, please email us at hello@9cv9.com or visit our FB page  at 9cv9 Vietnam Tech Hiring .